Medtronic - Onyx™ LES with Apollo™ Delivery Micro Catheter
ONYX™ Liquid Embolic System :
Designed for presurgical embolization of brain arteriovenous abnormality (bAVMs), Onyx™ liquid embolic system (LES) is a pre-mixed, radiopaque, injectable embolic fluid consisting of the following components: EVOH (ethylene vinyl-alcohol copolymer), TA (micronized tantalum powder) and DMSO (dimethyl-sulfoxide)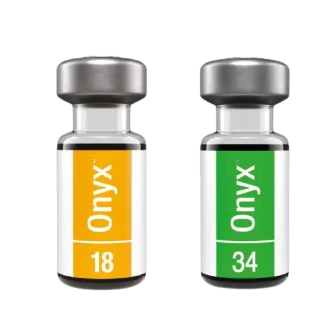 During presurgical embolization of bAVMs, with the OnyxTM LES system, the DMSO solvent dissipates into the blood and interstitial fluids, causing the EVOH copolymer and suspended tantalum to precipitate in situ into a spongy, coherent substance. The Onyx™ liquid embolic system form a skin and solidifies over time from the outside to the inside.
ONYX™ LES is available in multiple formulations with varying flow properties
The numerical term of Onyx™ LES shows its relative viscosity. OnyxTM LES is offered in 18 and 34 to provide options for controllable injections.


Delivering ONYX™ LES
The Apollo™ Onyx™ delivery microcatheter was expressly designed to access the neuro vasculature for the controlled selective infusion of the OnyxTM liquid embolic system (LES).
The MarathonTM flow directed microcatheter was designed for the infusion of therapeutic agents such as embolization materials.

Onyx LES: EVOH+DMSO + Tantalum
onyx 18 LES (6% EVOH) for maximum penetration
Onyx 34 LES (8% EVOH) for high flow Occlusion

Microcatheter compatibilty:
Apollo, Marathon, Echelon, Rebar

Shake Onyx LES vials for a minium of 20 min at setting 8

Place microcatheter, confirm placement with contrast injection.
Flush with 10 mL saline and prime with DMSO Aspirate DMSO in the yellow DMSO 1 mL syringe Watch for reflux. Reinjection pressure after wait time (2 min max) niet nject to surmicienty Tl dead space of the microcatheter

Aspirate DMSO in the yellow DMSO 1 mL syringe
Inject to sufficiently fil dead space of the microcatheter
Aspirate Onyx LES with white 1mL syringe
Connect the Onyx LES syringe to the hub, making sure there is no air
Inject Onyx LES at slow rate of 0,16 mL/min
Do not exceed 0,3 mL/min
Confim enmbolizatin and withdraw microcathter