How to overcome the difficult access in thrombectomy? Tricks and tips
Based on example of Bovine arch + tortuous anatomy + left MCA occlusion
Introduction
In randomized studies successful reperfusion in thrombectomy is achieved in 59-88% of patients[1]. Major reasons for failed recanalization are difficult anatomical access (arterial tortuosity and elongation or cervical artery stenosis) and hard or resistant occlusion (hard clots or pre-existing intracranial atherosclerotic stenosis). In cases in which the intracranial occluded vessel is not reached, arterial tortuosity is main reason of failure[2].
Failure to access the occlusion through transfemoral access occurred in 4.4% of patients, most commonly due to challenging supra-aortic vessel anatomy, decreasing to 3.6% when all alternative access routes were attempted[3].


The key is to recognize the problem!
This highlights the need of preliminary imaging such as angio-CT or angio-MR with aortic arch visualization. Study carefully orientation of the aortic arch and angulation of the target vessel origin.You can meet different issues but follow the rules:
Choose your access -> Choose your technique and material


Access: radial access via right radial artery
Technique and material:
Option 1: you can go directly with
short introducer 7F + guide catheter (f.ex. RIST, Envoy 6F or 7F, Benchmark, Asahi Fubuki 6F) + diagnostic catheter (f.ex. Bern or Vertebral shape) or
short introducer 8F if the artery is big enough + guide catheter (Cerebase, NeuronMax, Asahi Fubuki 8F)
+ diagnostic catheter (f.ex. Bern or Vertebral shape)
Option 2: you can place the short 4 or 5F introducer, then inject radial cocktail (heparine+vasodilatator), then catheterize the left ICA with diagnostic catheter and perform the over the wire exchange on a long wire and insert directly guide catheter 6F, 7F or 8F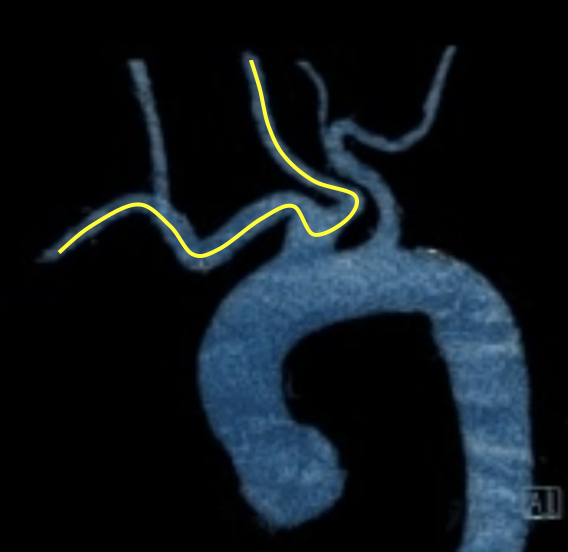 Access: femoral access
Technique and material:
Option 1: you can try to overcome the tortuosity of the vessels by reducing the gap between the diagnostic catheter and the guide catheter:
f.ex. RIST + 5F Vitek 125 cm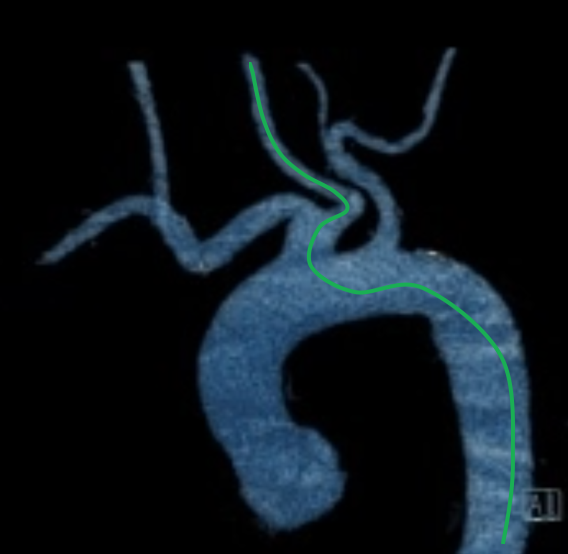 Option 2: you can choose the most flexible guide catheter as possible and jump on the diagnostic catheter without putting your diagnostic catheter forward.
f.ex. Cerebase + 5F or 6F SIM 130 cm
Option 3: you can use stiff control wire technique to stabilize your guiding catheter – catheterize with Vitek right subclavian artery and place 0.035 inch Terumo Stiff long wire and put 8F guide catheter on the level of carotid arteries origin, then remove the diagnostic catheter and take a second 0.035 inch normal Terumo wire with Bern or Vertebral diagnostic catheter and catheterize left common carotid artery (CCA) (picture on the right)
Option 4: you can take a 7F guide catheter already Simmons-like shaped with a combination of aspiration catheter (no need of diagnostic catheter) f.ex. Vista Brite Tip 7F + Sofia 5F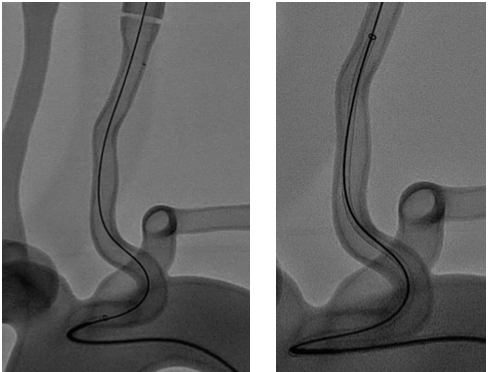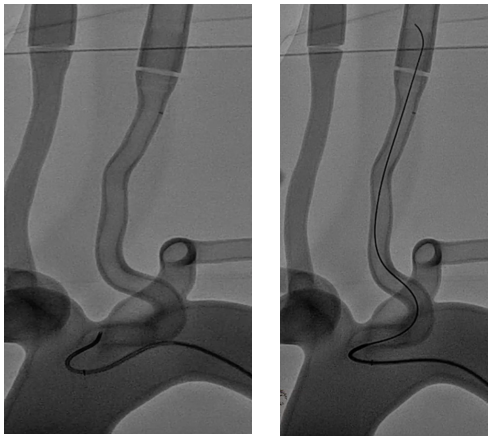 Option 5: you can take Vitek 125 cm* + short aspiration catheter f.ex Millipede 120 cm bare back (without hemostatic valve) - once your diagnostic catheter get caught in the left CCA, place your Glidewire Advantage or Terumo 0.035 inch wire high in ICA or ECA and jump over the tip of your diagnostic catheter with the aspiration catheter
*advantage of Vitek over the Simmons – you do not need to form it – when using with aspiration 120 cm catheter there is no space for that (picture on the right)
Access: direct carotid puncture
Technique and material:
Whenever you decide to perform this technique, put your patient under general anesthesia. It is safer to puncture the CCA under ultrasound guidance. Never exceed the size of 6F and use short 7 cm or 11 cm introducers, you may use radial introducers and micropuncture set however it is not mandatory. It is useful to take some guiding catheter such as Envoy 6F/ Benchmark 6F/ Chaperon 6F etc. for the support. Once you catheterize ICA you may use 5F aspiration catheter +/- stent-retriever. You can close your puncture site with some closure devices (however off-label), manual compression or surgical suture.

Conclusion:
Failure to access the occlusion is a significant contributor to failed recanalization, regardless of access routes. The key to overcome the problem is to deeply understand anatomy of the patient and plan up properly the procedure knowing advantages and limitations of available materials.
Literature:
Goyal, Mayank, et al. "Endovascular thrombectomy after large-vessel ischaemic stroke: a meta-analysis of individual patient data from five randomised trials." The Lancet 387.10029 (2016): 1723-1731.
Leischner, Hannes, et al. "Reasons for failed endovascular recanalization attempts in stroke patients." Journal of neurointerventional surgery 11.5 (2019): 439-442.
Penide, Joaquin, et al. "Systematic review on endovascular access to intracranial arteries for mechanical thrombectomy in acute ischemic stroke." Clinical neuroradiology (2021): 1-8.