OCT is a non-contact, light-based imaging method utilizing newly developed fiber-optic technology.
The typical OCT image has an axial resolution of 10 µm, approximately 10 times higher than that of any other clinically available diagnostic imaging modality such as IVUS with a resolution of 80 µm.
Practical points:
- red blood cells cause attenuation of the signal so in order to be able to visualize properly vessel wall there is a need for removing blood from the field of view, this may be done by: creating flow arrest with BCG + flushing the internal carotid space with iodine by syringe injection or with continuous injection of saline through the guiding catheter to remove blood from the field of view
- size and rigidity of the system make navigation possible only to the petrous segment of ICA, but with new technology frequency-domain optical coherence tomography (FD-OCT) it is possible to navigate up to the vessels of 1 mm diameter (so even distal MCA, ACA, PCA)
- you need to cross the lesion in order to evaluate it (you are evaluating when you are pulling back the system)
- it is difficult to evaluate the thrombus with this modality because the clot is creating signal shadowing
Clinical applications:
to understand the underlying vessel wall disease (stenosis, dissection, dysplasia, web, etc.)
to evaluate the level of the endothelization post stenting
to evaluate devices apposition to the vessel wall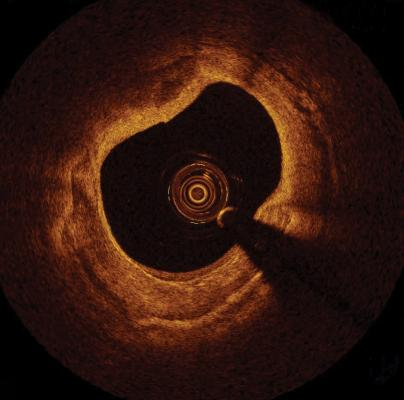 https://www.dicardiology.com/sites/default/files/styles
/content_feed_large_new/public/OCT%20intravascular%
20image%20of%20circumfernetial_calcium_from
%20St%20Jude%20Medical%20PR.jpg?itok=YuVXoXv3
Laser Angioscopy is a multimodal scanning fibre endoscope (SFE) consisting of a single optical fibre scanned by a piezoelectric drive that illuminates tissue with red, blue and green laser beams, and that digitally reconstructs images at 30 Hz with high resolution and large fields of view.
By combining laser-induced reflectance and fluorescence emission of intrinsic fluorescent constituents in arterial tissues, the SFE generates high-quality spectral images (>1 million pixels) with real time acquisition.
Practical points:
- in order to get a high quality images it is important to flush out the blood from the vessel
This may be done by: creating flow arrest with BCG + flushing the internal carotid space with iodine by syringe injection or with continuous injection of saline through the guiding catheter to remove blood from the field of view
- 3.3 F device with monorail system (0.044 inch, fits in 5F catheter)
- large field of view and focal depth (>5 cm)
- intuitive and artifact free images
- real time to guide therapy
- you do not need to cross the lesion, (you see what is in front of you)
- thrombus evaluation is possible, you can distinguish red from white and mixed thrombus
Clinical applications:
to understand the underlying vessel wall disease (stenosis, dissection, dysplasia, web, etc.)
to evaluate the level of the endothelization post stenting
to evaluate devices apposition to the vessel wall
thrombus evaluation