Medtronic Pipeline™ Vantage Embolization Device with Shield Technology™ for intracranial aneurysms.

Pipeline™ is the reference in flow diversion, with more than 10 years of experience and a very high number of clinical studies. These devices changed the treatment of aneurysms. By diverting flow away from the aneurysm neck and reconstructing the parent artery, they allow the flow to reapir its natural course.

The 4th generation Pipeline™ VANTAGE Embolization Device with Shield Technology™ keeps the legacy by providing essential innovation with delivered improvement in biomaterial science & technology.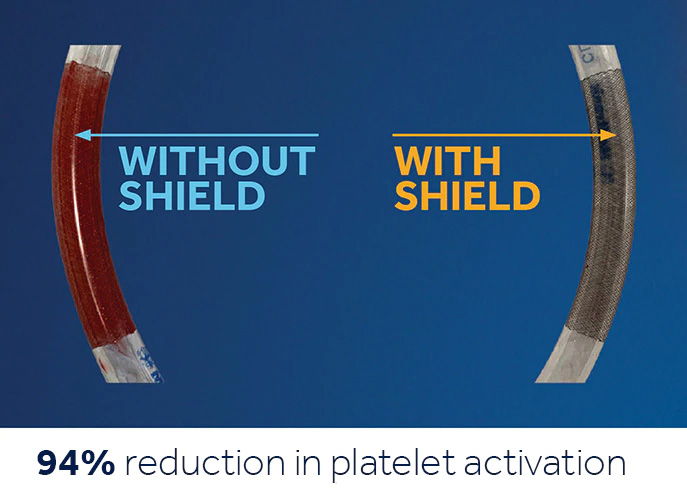 Pipeline™ Flex Shield Technology™: addresses one of the common fence to the flow diversion therapy: material thrombogenicity. Through covalently bonding PC to the surface of the implant, the Shield Technology™ surface modification strengthen Pipeline™ Flex to achieve a scientifically proven reduction in implant material thrombogenicity.
Shield Technology™ is designed to improve the hemocompatibility3,4 and deliverability4 of the Pipeline™ implant by integrating synthetic phosphorylcholine (PC) to the surface of the braid..
Shield Technology™ builds on the clinically recognized treatment of certain wide-necked intracranial aneurysms with the Pipeline Flex™ embolization accessory, by introducing an innovative implant surface modification, designed to advance flow diversion therapy

Key points:
• 48 wires for 2.50-3.50 mm braids
• 64 wires for 4.00-6.00 mm braids
• Cobalt Chromium Wires with a Platinum Core
• 25-29% metal coverage Sizing length at least 6 mm > to aneurysm neck
Diameter:
Implant Outer Diameter > Largest Vessel inner diameter.

• Check your working views Push out the distal end to land it immediately at the desired location.
• Deliver Pipeline Vantage using a combo of unsheathing the implant and pushing the delivery wire together. • Maintain the micro within the center of the parent vessel during deployment.
• lf the positioning is not good, you can recapture the implant -8 times.